The Asus Eee PC 1000H has 3 USB ports.  These are pretty convenient, expect when you're trying to connect an external hard drive, such as a Western Digital My Passport 320 GB ($110 at newegg.com and free shipping).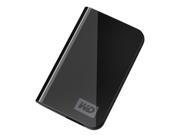 To my surprise, the drive would not spin when connected to the Eee PC.  It's not a defective drive because it connects to my desktop just fine.  Yes, I have an old fashion desktop.  I'm not just a UMPC type of geek.  Here's the problem.  If you're not connected to the AC adapter, the USB are running on less power to maximize battery life.  Plugged in, the Passport drive powers up  just fine.
On another note, the Passport drives are nice.  For about $100, I can transport all my media files without carrying a huge hard drive with me.  The Passport drive slips in my Eee PC case just fine.